Hi, Alysers! I am excited to share with you my list of the top 10 romance anime to watch today!
I know that action anime have been taking over the airwaves recently. However, we all have to admit that romance anime will always have a special place in our hearts! As human beings, we just long for the happy feelings that romance and love incite within us. And so, if you're looking for an excellent pick-me-up to fall in love with, stream any one of these top 10 romance anime!
10. Sakura-sou no Pet na Kanojo
Status: Complete
Number of Episodes: 24
Genre: Romance, Comedy, Drama, Slice of Life
When abandoned kittens and his good conscience force second year Sorata Kanda to move into Suimei High School's infamous Sakura Hall, the satellite dorm and its eccentric, misfit residents turn his life upside down. The decidedly average Sorata finds it difficult to fit in with the bizarre collection of dorm residents like Misaki, an energetic animator; Jin, a playwright playboy; Ryuunosuke, a reclusive programmer; and Chihiro, the dorm manager, art teacher, and party girl.
Sorata's friend Nanami, a second year student and aspiring voice actress, pushes him to find new owners for the many cats so that he can quickly move back into the regular dorms. However, his desire to escape Sakura Hall wavers when the pet-like and infantile second year Mashiro Shiina, a world-class artistic savant looking to become a mangaka, transfers in during the spring trimester and quickly latches onto him.
Supported by each other's quirks, Sorata and Mashiro come out of their shells and trigger change in the lives of those around them. Based on the light novel series of the same name, Sakurasou no Pet na Kanojo explores the fine threads connecting talent, hard work, romance, and friendship with its ensemble cast.
[Source: My Anime List]
Thoughts on this Anime:
I have to admit: this anime contains some themes that other people may find uncomfortable. A guy having to take care of a girl who can't even dress herself? I certainly balked at first. But after the second episode, I was hooked. In fact, I finished the entire series in one seating!
I particularly loved how each character was considered "crazy" by other people, only for them to turn out to be complete geniuses. And somehow, "normal" Sorata fit right in the gang. He balanced everyone out and was able to provide some foundations for the somewhat quirky group.
And then, of course, there was the way he cared for Mashiro. The romance may have taken a little while to develop, but it was pure and heart-warming. Truly, they thought greatly of each other and valued what would be the best for the other person. That's love right there.
9. Special A
Status: Complete
Number of Episodes: 24
Genre: Romance, Comedy
Hikari Hanazono has always been able to do things that normal people cannot. As a child, she assumed no one could beat her—until she met Kei Takishima. Thinking she would win, Hikari challenged him to a match. But things didn't go as planned; she lost not once but each time she rechallenged him. From that point on, she has sworn to best Kei at everything, ranging from academics to athletics.
To achieve her goal, Hikari enrolls in the same school as Kei—Hakusenkan, a prestigious institute for the wealthy. As a pair, they hold the top two rankings in school and are among seven of the academy's best students in a class known as Special A.
While Hikari treats Kei as a rival, she is completely oblivious that he harbors hidden feelings for her. Together, the members of Special A deal with competition, friendship, and just a bit of love.
[Source: My Anime List]
Thoughts on this Anime:
The antics of the Special A class is guaranteed to fill you with laughter! None of it is realistic at all, as Hikari and Kei embark on exploits that aren't humanly possible. But even then, you can't help but enjoy their interactions and development.
I won't get into spoilers, but Hikari's one-sided oblivion was amusing. Sure, there were times when I wanted to shake her out of her reverie and open her eyes. However, Kei's patience and invisible support through it all was very touching. It's your typical love-hate relationship, except the students have a lot more money and free time!
8. Toradora!
Status: Complete
Number of Episodes: 25
Genre: Romance, Comedy, Slice of Life
Ryuuji Takasu is a gentle high school student with a love for housework; but in contrast to his kind nature, he has an intimidating face that often gets him labeled as a delinquent. On the other hand is Taiga Aisaka, a small, doll-like student, who is anything but a cute and fragile girl. Equipped with a wooden katana and feisty personality, Taiga is known throughout the school as the "Palmtop Tiger."
One day, an embarrassing mistake causes the two students to cross paths. Ryuuji discovers that Taiga actually has a sweet side: she has a crush on the popular vice president, Yuusaku Kitamura, who happens to be his best friend. But things only get crazier when Ryuuji reveals that he has a crush on Minori Kushieda—Taiga's best friend!
Toradora! is a romantic comedy that follows this odd duo as they embark on a quest to help each other with their respective crushes, forming an unlikely alliance in the process.
[Source: My Anime List]
Thoughts on this Anime:
Toradora has your classic tsundere trope — in fact, Taiga is considered as the poster child for it! However, they manage to build the relationship in a way that reflects mutual admiration and respect. While I do not agree with the characterization, as tsunderes can be abusive, this show can be enjoyable if you try to detach yourself from the real-world realities of that kind of relationship. This is, after all, an animation.
Also, there is character development in both Taiga and Ryuuji. They are outrageously different from one another, which supports the fact that they need each other. I also liked that they were initially, truly just friends, without any malice. With this, viewers get to see the development of romantic attraction, grounded by the foundation of a good friendship.
7. Your Lie in April
Status: Complete
Number of Episodes: 22
Genre: Romance, Drama, Music
Music accompanies the path of the human metronome, the prodigious pianist Kousei Arima. But after the passing of his mother, Saki Arima, Kousei falls into a downward spiral, rendering him unable to hear the sound of his own piano.
Two years later, Kousei still avoids the piano, leaving behind his admirers and rivals, and lives a colorless life alongside his friends Tsubaki Sawabe and Ryouta Watari. However, everything changes when he meets a beautiful violinist, Kaori Miyazono, who stirs up his world and sets him on a journey to face music again.
Based on the manga series of the same name, Shigatsu wa Kimi no Uso approaches the story of Kousei's recovery as he discovers that music is more than playing each note perfectly, and a single melody can bring in the fresh spring air of April.
[Source: My Anime List]
Thoughts on this Anime:
This anime is based on a manga. I have to say, it makes my "top 10 romance anime to watch" list, but it would also make my "top 10 anime heartbreaks." If you're looking for a show that will put you through an emotional roller coaster, this one's for you.
The love that Kousei and Kaori had for each other was pure, beautiful, and heart-wrenching. They built each other up, drove one another to grow, and walked together towards freedom. As a romantic myself, I believe that the people we love always drive us towards a certain path. We may not always end up with our love interests, but our relationships with them shape us and make us who we are. That's the kind of love that Kousei and Kaori shared, and it's the kind that never goes away.
6. Horimiya
Status: Complete
Number of Episodes: 13
Genre: Romance, Comedy, Slice of Life
On the surface, the thought of Kyouko Hori and Izumi Miyamura getting along would be the last thing in people's minds. After all, Hori has a perfect combination of beauty and brains, while Miyamura appears meek and distant to his fellow classmates. However, a fateful meeting between the two lays both of their hidden selves bare. Even though she is popular at school, Hori has little time to socialize with her friends due to housework. On the other hand, Miyamura lives under the noses of his peers, his body bearing secret tattoos and piercings that make him look like a gentle delinquent.
Having opposite personalities yet sharing odd similarities, the two quickly become friends and often spend time together in Hori's home. As they both emerge from their shells, they share with each other a side of themselves concealed from the outside world.
[Source: My Anime List]
Thoughts on this Anime:
This anime chronicles the story of the popular girl revealing her true self to the unpopular guy. And so at first glance, it may not appear any special. But I guarantee that it deserves its place as one of the top 10 romance anime to watch today!
One great thing about the relational development of Hori and Miyumara is that they were surrounded by a great supporting cast. These characters were also allowed growth and story exploration, and their narratives indeed showed promise. This is true to relationships in real life, because a couple can always benefit from a great support system. Sure, I did hope that they were given more screen time, but I can't complain much because other romance anime don't even give supporting characters the time of the day.
Its animation is also something to behold, as it is one of the newer titles on this list. It also delves into modern themes, as Hori takes charge of the relationship and is upfront about her emotions. She expresses her love freely, and in turn, Miyumara adores her just for the way she is.
5. Akagami no Shirayuki-hime
Status: Complete
Number of Episodes: 12
Genre: Romance, Fantasy, Drama
Although her name means "snow white," Shirayuki is a cheerful, red-haired girl living in the country of Tanbarun who works diligently as an apothecary at her herbal shop. Her life changes drastically when she is noticed by the silly prince of Tanbarun, Prince Raji, who then tries to force her to become his concubine. Unwilling to give up her freedom, Shirayuki cuts her long red hair and escapes into the forest, where she is rescued from Raji by Zen Wistalia, the second prince of a neighboring country, and his two aides. Hoping to repay her debt to the trio someday, Shirayuki sets her sights on pursuing a career as the court herbalist in Zen's country, Clarines.
Akagami no Shirayuki-hime depicts Shirayuki's journey toward a new life at the royal palace of Clarines, as well as Zen's endeavor to become a prince worthy of his title. As loyal friendships are forged and deadly enemies formed, Shirayuki and Zen slowly learn to support each other as they walk their own paths.
[Source: My Anime List]
Thoughts on this Anime:
If you're looking for a romance anime that involves fantasy, Shirayuki-hime should be on your top 10 list. I really liked the fact that although Shirauki can seem naive and innocent, she carries strength and knowledge within her. She didn't allow herself to be criticized by people just because she wasn't royalty. Instead, she manages to grow into her own person, even as Zen walks on his path to be a better prince.
They support each other in their roles and gently uplift one another through their trials. They are both caring, sincere, and brilliant. Truly, what more could you ask for? They're a golden (or, well, red-and-white) couple!
4. Kaichou wa Maid-sama!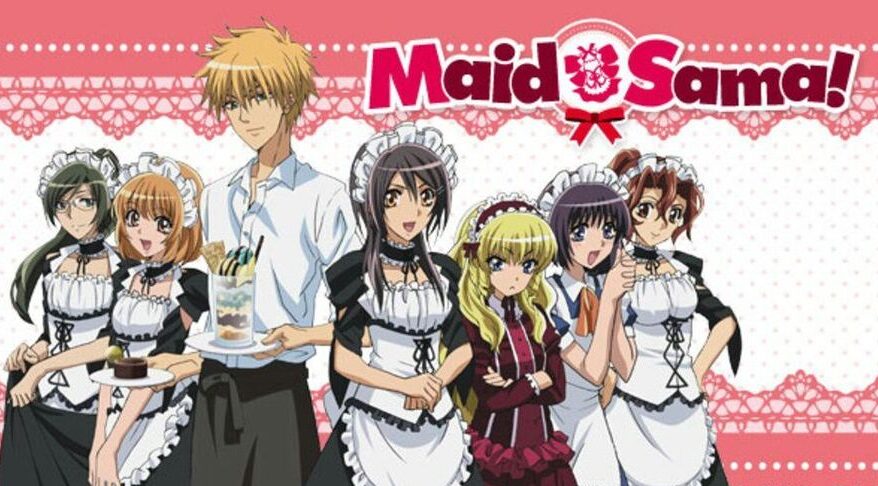 Status: Complete
Number of Episodes: 26
Genre: Romance, Comedy
Being the first female student council president isn't easy, especially when your school just transitioned from an all boys high school to a co-ed one. Aptly nicknamed "Demon President" by the boys for her strict disciplinary style, Misaki Ayuzawa is not afraid to use her mastery of Aikido techniques to cast judgment onto the hordes of misbehaving boys and defend the girls at Seika High School.
Yet even the perfect Ayuzawa has an embarrassing secret—she works part-time as a maid at a maid café to help her struggling family pay the bills. She has managed to keep her job hidden from her fellow students and maintained her flawless image as a stellar student until one day, Takumi Usui, the most popular boy in school, walks into the maid café. He could destroy her reputation with her secret… or he could twist the student council president around his little finger and use her secret as an opportunity to get closer to her.
[Source: My Anime List]
Thoughts on this Anime:
Kaichou wa Maid-Sama is one of the very first anime that I ever watched, so it holds a special place in my heart. It may have been around for a long time, but I have found it to be just as entertaining and enjoyable even when I re-watched it recently.
This show is unique in the sense that it delves into the world of maid cafes. That's not something we encounter in Western shows. Beyond that, it places its two main characters on equal ground. Misaki may not be rich, but she is a boss woman in every sense. On the other hand, we have rich and charming Usui. The fact that they are both self-confident makes their dynamic interesting to watch.
3. ReLIFE
Status: Complete
Number of Episodes: 13
Genre: Romance, Drama, Slice of Life
Dismissed as a hopeless loser by those around him, 27-year-old Arata Kaizaki bounces around from one job to another after quitting his first company. His unremarkable existence takes a sharp turn when he meets Ryou Yoake, a member of the ReLife Research Institute, who offers Arata the opportunity to change his life for the better with the help of a mysterious pill. Taking it without a second thought, Arata awakens the next day to find that his appearance has reverted to that of a 17-year-old.
Arata soon learns that he is now the subject of a unique experiment and must attend high school as a transfer student for one year. Though he initially believes it will be a cinch due to his superior life experience, Arata is proven horribly wrong on his first day: he flunks all his tests, is completely out of shape, and can't keep up with the new school policies that have cropped up in the last 10 years. Furthermore, Ryou has been assigned to observe him, bringing Arata endless annoyance. ReLIFE follows Arata's struggle to adjust to his hectic new lifestyle and avoid repeating his past mistakes, all while slowly discovering more about his fellow classmates.
[Source: My Anime List]
Thoughts on this Anime:
ReLIFE is a very interesting anime, with a plot that I haven't really encountered before. It's set in the real world, with elements that make it sound like it's a mix of Matrix, 17 Again, and 13 going on 30 — with a twist. It's a story about second chances, in every sense.
It was fascinating to see these "adults" learn from teenagers as they plunged into their high school experiment. Their humility, grace, and capacity for growth showed me that no one is ever too far gone. In fact, if you just give someone enough opportunity and patience, they can indeed step out of their shells, into their better selves.
The romance between Arata and Hishiro was especially heart-warming to see. They both worked through their personal issues and learned how to be there for each other, as students and as adults. Although the "secret" factor was initially there, viewers are given high hopes for how their story will continue.
2. Wotakoi (Love is Hard for an Otaku)
Status: Complete
Number of Episodes: 11
Genre: Romance, Comedy, Slice of Life
Having slept through all four of her alarms, the energetic Narumi Momose finds herself running late for her first day of work at a new office. As she races to catch her train, she makes a promise to herself that none of her coworkers will find out about her dark secret: that she is an otaku and a fujoshi. Her plan goes instantly awry, though, when she runs into Hirotaka Nifuji, an old friend from middle school. Although she tries to keep her secret by inviting him out for drinks after work, her cover is blown when he casually asks her whether or not she will be attending the upcoming Summer Comiket. Luckily for her, the only witnesses—Hanako Koyanagi and Tarou Kabakura—are otaku as well.
Later that night, the pair go out for drinks so that they can catch up after all the years apart. After Narumi complains about her previous boyfriend breaking up with her because he refused to date a fujoshi, Hirotaka suggests that she try dating a fellow otaku, specifically himself. He makes a solemn promise to always be there for her, to support her, and to help her farm for rare drops in Monster Hunter. Blown away by the proposal, Narumi agrees immediately. Thus the two otaku start dating, and their adorably awkward romance begins.
[Source: My Anime List]
Thoughts on this Anime:
How do otakus date? What happens when two otakus fall in love? This anime delves into that, as it pokes fun into its own narrative. It's fun, evenly-paced, and it doesn't beat around the bush. The art just pops and even the soundtrack is made to match this energy.
Wotakoi is also one of the rare romance anime that involves adults instead of school-aged youth. However, this does not mean that you should expect "adult themes." This series maintains the purity and sweetness that anime romances usually bank on. While some people find that unrealistic, I thought it matched the light-hearted relationships of the show.
1. Tsuki ga Kirei
Status: Complete
Number of Episodes: 12
Genre: Romance, Slice of Life
With a new school year comes a new crowd of classmates, and for their final year of junior high, aspiring writer Kotarou Azumi and track team member Akane Mizuno end up in the same class. Though initially complete strangers, a few chance encounters stir an innocent desire within their hearts. A yearning gaze, a fluttering heart—the hallmarks of young love slip into their lives as fate brings their paths to a cross.
However, though love is patient and love is kind, Kotarou and Akane discover it is not always straightforward. Despite the comfort they find in each other's company, heartache and anxiety come hand in hand with pursuing the feelings in their hearts. With the uncertainty of how the other truly feels as well as the competing affections of those around them, the road ahead is unclear. Even so, under the shining light of a beautiful full moon, Kotarou gathers his courage to ask Akane a single question, one that forever changes their quiet relationship.
[Source: My Anime List]
Thoughts on this Anime:
Tsuki ga Kirei makes my top 10 anime of all time, regardless if the genre is romance or not. It has one of the most sincere and honest relationships that I have ever seen. The characters are in junior high, but they exhibited a maturity that is beyond what can be seen in adults. Azumi and Mizuno are patient with each other, they help each other through their traumas, and though they are both introverts, they eventually overcome their lack of communication.
I think that their relationship is one of the healthiest I have seen in an anime, and for that, it deserves the top spot on this "top 10 romance anime to watch" list.
---
Do you agree with the ranking? What are the top 10 romance anime you want to watch?
Let us know in the comments section below!
Share this list with your friends and talk about your own top 10 romance anime!
Want more?
Subscribe and follow us on our socials and we'll be sure to update you on the new releases in the anime and manga world!
[convertkit form=tel:2657266]