Hi, Alysers! I'm excited to share with you my top 10 K-drama series to watch today!
More and more people have been hopping on the k-drama train and for a good reason. K-dramas give us a fresh experience of entertainment. The way they are written and paced is very different from the American series we have become familiar with throughout the years, and that's a great thing. With their innovation and excellent execution, we have a formidable list of shows to choose from.
But if you find yourself overwhelmed with the many options, then you can start here. Here are the top 10 k-drama series that I personally recommend!
10. Vagabond
Status: Complete
Number of Episodes: 16
Genre: Spy, Crime, Action, Thriller, Romance
Cha Dal-Geon is a stunt man who dreams of becoming a world-famous action actor. His career is floundering, while he tries to take care of his nephew as his guardian. His nephew takes a flight from Incheon to Morocco for a taekwondo exhibition, but the flight crashes. In Morocco, Cha Dal-Geon sees someone in public that was a passenger on the fatal flight. He becomes convinced that someone or some group sabotaged his nephew's flight.
Go Hae-Ri is an NIS agent and is currently working undercover at the Korean embassy in Morocco. She is tasked by the embassy to help the bereaved families from the fatal flight. Cha Dal-Geon turns to Go Hae-Ri for help in finding the man he saw in Morocco who was a passenger on the flight. Soon, Cha Dal-Geon and Go Hae-Ri uncover a far darker and more sinister conspiracy than they expected.
[Source: Asian Wiki]
Thoughts about this K-drama:
Vagabond is a K-drama that had me clutching at the end of my seat. It's full of action, mystery, intrigue, and just the right tinge of romance! It kind of frustrated me that each episode ended on a cliff-hanger, but it just added to the suspense.
One thing that I liked was how the show handled the topics of corruption and politics. It weaved things together in an artful way. I don't want to be a spoiler, but the fact that they showed just how high things could go is a remnant of modern society. The show reveals that we know nothing about international powers, and there is more to things than how the media portrays them.
The scenes in Morocco were particularly stunning. They show us dust roads and grandeur, reflecting the contrast of reality. Beyond that, the cinematography and color toning were well done. Overall, Vagabond is a must watch — especially if you're looking for an action-based, social commentary.
9. Weightlifting Fairy Kim Bok Joo
Status: Complete
Number of episodes: 16
Genre: Sports, Coming-of-age, Romantic Comedy
Kim Bok Joo is a weightlifter who is pursuing her dream of winning the gold medal but she then finds romance for the first time in her life. While she is a woman who trains with heavy steel weights, she is also very feminine when it comes to relationships. Focusing solely on weightlifting would jeopardize her relationship but leaving her weightlifting career for love would keep her from attaining her dreams. Can she find a way to have love as well as glory at the age of 20? The characters within this drama are elite athletes in weightlifting, swimming and rhythmic gymnastics who work hard to reach their goals in life. It covers their coming-of-age stories and relationships through hectic life.
[Source: My Drama List]
Thoughts about this K-drama:
If you want a k-drama that will make you feel good, then Weightlifting Fairy shouldn't just be on your "top 10 k-drama series to watch" list. Instead, it should be at the very top of your list.
This series is one of the very few k-dramas that doesn't involve any angst. Sure, it follows college students through their relationships. However, most of their troubles are very mundane. They involve day-to-day realities. This means that you won't have to deal with forbidden lovers, lost parents, and forgotten childhood friends. Everything is straightforward, and everyone is happy, thereby relieving you of unnecessary stress while watching.
I especially enjoyed the light-hearted soundtrack and cinematography of this one. It's a show that I keep going back to with my siblings when we want to watch something without too much thinking.
8. Her Private Life
Status: Complete
Number of episodes: 16
Genre: Romantic Comedy
Sung Deok-Mi works as a curator at an art gallery. She is a huge fan of idol group member Shi-An and secretly runs a fan website about him. Because of her affection for Shi-An, she has experienced several personal break-ups. Sung Deok-Mi now focuses only her job and doing activities as Shi-An's fan in her private life. One day, Ryan begins work as the new director of the art gallery where Sung Deok-Mi. He was once a famous painter, but he does not paint anymore. Ryan doesn't have much interest in other people, but he happens to learn that Sung Deok-Mi is a fan of Shi-An and runs his fan website. Ryan takes an interest in Sung Deok-Mi.
[Source: Asian Wiki]
Thoughts about this K-drama:
Park Min Young and Kim Jae Wook have sizzling onscreen chemistry, making the series a joy to watch. I loved watching their relationship turn from "enemies" to lovers. I know it's a common trope, but somehow, this show manages to weave romance along with comedy, mystery, and just a bit of thrill. The songs and the artwork are just a bonus.
The premise itself is rather unique, as it chronicles the double-life of a fangirl. I think this is the first show I've watched that tackled the subject, and it accurately captures how committed some fans can be. To that end, it also shows the dark side of fangirling, which many turn a blind eye to. This is especially true for the Korean entertainment industry. The fact that this light-hearted series manages to embark on that narrative is commendable.
Also, that brother plot twist? I've watched a lot of shows, but I didn't see that coming. I'll give this show five stars, all the way!
7. Arthdal Chronicles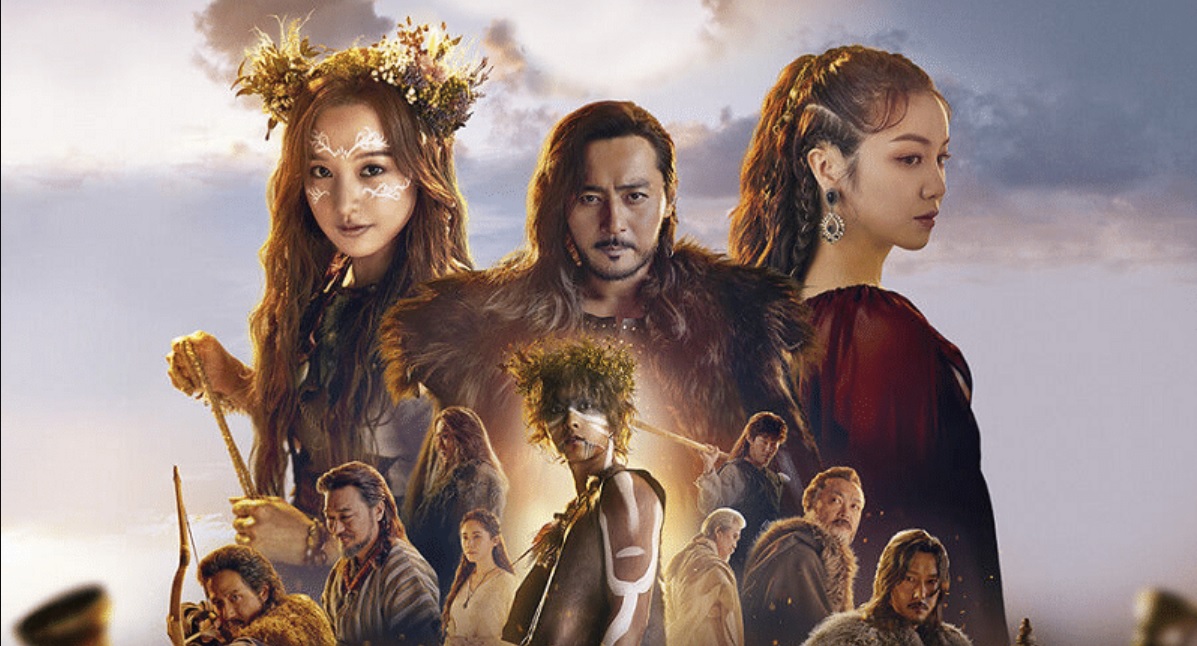 Status: Complete
Number of episodes: 18
Genre: Historical, Fantasy
Set in the fictional land of Arthdal during ancient times(bronze age). Eun Seom was born with a fate to bring disaster to Arthdal, which leads him and his mother, who wants to save him, to endure hardships. Finally, they decide to leave and travel together to a better place. Although Eun Seom grows up in the new land, he is seen as an outcast because he is different from the land's natives.
Ta Gon is a war hero of Arthdal. He has paved the way for Arthdal to become a prosperous city and nation and he is the strongest warrior in Arthdal. He dreams of becoming the first king of Arthdal. Tan Ya was born with the same fate as Eun Seom. She is the next great mother of the Wahan Tribe. But she has difficulty mastering the dance of the great mother and hasn't had a single dream since the Eun Seom appeared in their village.
[Source: My Drama List]
Thoughts about this K-drama:
Many people say that Arthdal Chronicles is the Korean version of Game of Thrones. I would argue that it's much more than that. The series manages to create a world that immerses the viewers. It has its own set of laws and runs according to its culture and politics. Simply put, it's impressive.
It was also interesting to watch Song Joong Ki and Kim Ji Won interact as romantic interests. After seeing them paired with other people in Descendants of the Sun, I thought that I wouldn't be able to enjoy watching their characters together in this show. However, they managed to act so well that I soon forgot about that. They completely poured themselves into their roles, and Song Joong Ki was especially a revelation.
I would have to say, though, that the first three episodes (over an hour long each!) were slow. This is because the world and its characters had to be introduced — and there were many characters and elements involved. However, I highly recommend that you bear through it. By episode 4, the action never stops, and you will find yourself caught in the whirlwind.
6. My Love From the Star
Status: Complete
Number of episodes: 21
Genre: Romantic Comedy, Fantasy
Do Min Joon is an alien who landed on Earth 400 years ago during the Joseon Dynasty period. He possesses a near perfect appearance and enhanced physical abilities involving his vision, hearing and speed. Later, he discovers that he has three months left on Earth. And that is when he meets Cheon Song Yi, the biggest Hallyu star in Korea.
[Source: My Drama List]
Thoughts about this K-drama:
My Love From the Star is a blockbuster drama, led by Kim Soo-hyun and Jun Ji-hyun. Those leads alone are enough to convince most people that this show is quite the ride.
But I do have to add that this show is well worth the hours. It is, after all, 21 episodes. Some aspects of the fantasy and sci-fi did make me ask questions, but if you could go by suspension of belief, you can fully enjoy the story. There is a lot of transition between the past and the present, so you do have to remind yourself of what's going on.
On another note, there were times when I found myself quite irritated by the character of Cheon Song Yi, but she grew on me after a couple of episodes. If you find yourself in the same boat, just hold on. That's what character development is for.
5. Strong Woman Do Bong Soon
Status: Complete
Number of episodes: 16
Genre: Fantasy, Thriller, Action, Romantic Comedy
Do Bong Soon is a petite, unemployed woman who is honest and kind. She appears little and sweet on the outside, but she is in fact very, very strong. For generations in her family, the women have been gifted Herculean strength to use for the greater good. If abused, however, their power will be taken away. Whilst standing up for herself after gang members bully her, she finds herself approached by Ahn Min Hyuk, the handsome and somewhat childish CEO of Ainsoft, a gaming company.
Ahn Min Hyuk, who holds a great distrust towards the police, witnessed the whole exchange of Bong Soon's superhuman strength, and now wants to employ her as a bodyguard after being threatened by an unknown enemy. Min Hyuk falls in love with super-strong Bong Soon at first sight, but there's a catch. Bong Soon has eyes for someone else; police officer and childhood friend, In Guk Doo, whom she has known since high school. When chaos ensues after a series of kidnappings in Do Bong Soon's hometown of Dobong-dong, Dobong-gu, Bong Soon must decide whether to use her strength and stand up to evil, or play it safe and keep her powers hidden from the world.
Combined with the love triangle she faces between In Guk Doo and Ahn Min Hyuk, as well as having to keep Min Hyuk safe, Bong Soon's life is thrown into turmoil. Can she use her strength for the greater good, or will it prove in the end to be too much?
[Source: My Drama List]
Thoughts about this K-drama:
If you're tired of the damsel-in-distress tropes, then Strong Woman Do Bong Soon should be on the top of your 10 k-drama series to watch list. In this show, Do Bong Soon goes around saving everyone with her superpowers. In fact, to an extent, Ahn Min Hyuk (who is the prince charming) is more of the one who needs saving. This makes for a really fun dynamic.
One more thing I liked about this show is that it doesn't lean too much into feminism, as most female-centered shows do. It properly manages the balance of being a strong woman with a soft heart. On the other end, we have a male lead who is so secure in his masculinity that he doesn't need to fit the stereotype.
However, this is not to say that the series is completely smooth-sailing. This show had one arc that had me covering my eyes, because the implied trauma and violence was too much for a woman like me to handle. Because of that, I can't really say that this show is a feel-good show. Nonetheless, you will be able to walk away with a smile on your face after you're done with the series.
4. I'm Not a Robot
Status: Complete
Number of episodes: 16
Genre: Romantic Comedy, Sci-fi
Kim Min Kyu is the largest shareholder of a financial company. He suffers from a "human allergy", preventing him from normal interactions with other people. He becomes interested in a robotic project named Aji-3 created by the Santa Maria robotic team. The team is headed by Hong Baek Gyun, inventor of Aji-3 and world-renowned robotics professor. He modeled Aji-3 after his ex-girlfriend, Jo Ji Ah, a struggling inventor that also works as a personal shopper to make ends meet.
Just when Kim Min Kyu wants to test the robot, an accident causes the malfunction of the robot's battery. Hong Baek Gyun begs Jo Ji Ah to take the place of Aji-3 and pretend to be the robot so they can get funding from Kim Min Kyu. But, Aji-3 becomes the closest thing that the lonely Min Kyu has to real contact with another person.
[Source: My Drama List]
Thoughts about this K-drama:
I honestly don't understand why this show isn't as famous as other romantic comedies. The way it handled trauma and its romance was well-done. The character growth and the relationships among the characters were also built with barely any loopholes. That would have been challenging to do, given a plot like this, yet this series did it perfectly.
At the beginning, I did feel as if I was going through a moral crisis. I found it difficult to support the developing relationship between the main characters because everything was built under a lie. I was scared about how things would unravel. Nevertheless, I am glad to say that the scriptwriters did not fail me.
I also enjoyed the interactions among the supporting characters. They weren't just there as decoration; instead, they contributed something to the story. It's rare to encounter that kind of dynamic outside of school-based shows, so that was truly a delight to experience once again.
3. What's Wrong With Secretary Kim?
Status: Complete
Number of episodes: 16
Genre: Romantic Comedy
The series revolves around the narcissistic Lee Young Joon, the vice president of a company run by his family. He is very self-absorbed and thinks highly of himself, so much that he barely acknowledges the people around him. Lee Young Joon has a capable and patient secretary Kim Mi So who has remained by his side and worked diligently for 9 years without any romantic involvement. However, Mi So now wants to set her life & focus on herself so when she decides to resign from her job, hilarious misunderstandings ensue. After 9 years of their strictly-workplace relationship, can it now develop in something more?
[Source: My Drama List]
Thoughts about this K-drama:
This show is probably on everyone's top 10 k-drama series to watch lists, and for good reason. Park Seo Joon and Park Min Young have a dynamic and chemistry that just pops through the screen. It's impossible to keep yourself from smiling. It was also amusing to see how Young Joon thought of himself, especially during the beginning. He was so oblivious to the realities of the world, yet still so secure in who he is. As a person who frequently struggles with how others perceive me, that was truly refreshing to see. I also liked watching him become more sensitive and aware of other people, with the help of Kim Mi So.
It's also impossible to dislike the character of the female lead. She is charming, decisive, competent, and beautiful. I also enjoyed taking inspiration from her outfits, which were all feminine and classy! And just when you think that you've had the story figured out, it inserts plot twists, mystery, and trauma along the way. Sure, there are common tropes, but this show does them best.
2. The Uncanny Counter
Status: Complete
Number of episodes: 16
Genre: Fantasy, Mystery, Thriller
Tells the story of demon hunters called Counters who come to earth under the guise of being employees at a noodle restaurant in order to capture evil spirits that have returned to earth in pursuit of eternal life. So Moon is the youngest of the Counters. After suffering from a mysterious car accident as a child, he eventually becomes a central figure among the Counters.
Do Ha Na has the ability to sense the locations of evil spirits, even those that are hundreds of kilometers away. She can also read memories of others through touch and works with So Moon to do away with evil spirits. Ga Mo Tak is a Counter with incredible strength. He's a former police officer who lost his memory seven years ago after an accident and is unable to stand idle in the face of injustice. Ga Mo Tak is also So Moon's mentor. Chu Mae Ok is a Counter with healing abilities. Outwardly, she's the chef of the noodle restaurant, but among the Counters, she is the emotional pillar of the group. Choi Jang Mool is the oldest Counter. He's in charge of all of the Counters' expenses, and he is a living legend among the Counters in Korea.
[Source: My Drama List]
Thoughts about this K-drama:
The Uncanny Counter had a familiar, yet unique plot. It is reminiscent of other fantasy shows, with talks of the spiritual realm, yet it tackles everything in a fresh way. And beyond this plot, what makes this show stand out are its characters. You can feel the friendship and bond of the cast members, even amid all the memory loss and transitions.
And for all its grit, action scenes, and plot twists, the show doesn't take itself too seriously. Sure, it kind of gets a little draggy in the middle, but the martial arts choreography and character explorations justify it. Either way, it's not overly dramatic nor dark. And while it's not particularly deep, it does take us away from the usual romance-centered k-dramas and is something to enjoy watching with family and friends. With that said, I can't wait for Season 2.
1. Vincenzo
Status: Complete
Number of episodes: 20
Genre: Crime-drama, Dark comedy
At the age of eight, Park Joo Hyeong went to Italy after being adopted. Now an adult, he is known as Vincenzo Cassano to the Mafia, who employ him as a consigliere. Because mafia factions are at war with each other, he flees to South Korea, where he gets involved with Lawyer Hong Cha Young. She is the type of attorney who will do anything to win a case. Now back at his motherland, he gives an unrivaled conglomerate a taste of its own medicine with a side of justice.
[Source: My Drama List]
Thoughts about this K-drama:
2021 has been a good year for k-drama, and Vincenzo is one proof of this. It's hard to limit the top k-drama series to just 10, but this one deserves to take first place on my list.
The plot may be quite a bit controversial for some. After all, it does involve the mafia, with a plethora of shady characters. It's hard to imagine how Vincenzo just keeps getting away with the things he does. But if you can just think of this as a drama, you will see how it's one of the best you have ever watched. It's an interesting mix of politics, dark comedy, romance, revenge, and redemption.
It handles its characters particularly well. Some characters that others may have deemed irredeemable are not just redeemed — they end up being loved. That's all anyone truly wants, if we're being honest.
And I have to say, that plot twist involving the "second male lead?" I did not see that coming! This is a show that deserves all of your attention, and it's a must-watch today.
---
Do you agree with the ranking? What are the top 10 k-drama series you want to watch?
Let us know in the comments section below!
Share this list with your friends and talk about your own top 10 k-drama series!
Want more?
Subscribe and follow us on our socials and we'll be sure to update you on the new releases in the anime and manga world!
[convertkit form=tel:2657266]