Hi, Alysers! I am excited to share with you my review on Money Heist!
Spanish dramas have slowly been making their way to fame on Netflix, and Money Heist is one of these shows. As the title implies, it follows the story of one, well, two well-prepared heists. It is fun, mind-boggling, mysterious, and thrilling at the same time. In fact, before Squid Game came out, it was the most-watched none-English series on Netflix. That's impressive!
Now, if you want to discover all the things that make Money Heist great, read this review!
The premise of the story
Money heist currently has three seasons, which are divided into five parts.
Parts 1 and 2
The first two parts focus on eight robbers. They were recruited by someone called "Professor" — and no, it's not the one from X-Men. Their task is to execute a massive crime by taking over the Royal Mint of Madrid. They aim to take hostages so that they can reprint and bail with 2.5 billion pounds.
And so, for five months, they gathered together in a remote location so that they could plan out their heist. However, unlike other famous heists like in the Fast and Furious movies or Ocean's 8, this particular heist comes with strict rules. First, they cannot give personal information to each other or anyone else. Second, no emotional attachments are allowed. Lastly, in spite of what they set out to do, there can be no violence during the heist.
Now, of course, there would be no story if no one broke any rules.
Part 3
The third part occurs three years after the original heist. One of the robbers gets caught by Europol, so the Professor and the others gather together so that they can rescue him while robbing the Bank of Spain in the process. There's nothing wrong with hitting two birds in one stone, right? And as is typical for heist shows, this one doesn't go according to plan as well. It ends on a cliffhanger, which leads right to part four.
Part 4
The fourth part begins in disarray, as the Professor thinks that one of the robbers has been executed. Meanwhile, the other members have been busy causing and getting caught in the chaos. They eventually have to face a formidable enemy to ensure that their heist doesn't fall to pieces.
Part 5
Lastly, part five follows the group as they have been stuck in the Bank of Spain for over a hundre./d hours. However, that's not the worse thing they face as they lose one of their own. The Professor has also been captured, and for the first time, he has no escape plan. The army arrives, and they face an enemy that seems insurmountable. What began as a heist was about to turn into a war.
The characters
One thing that stood out to me was how the characters had their different backgrounds and motivations. Their personas were allowed room to grow and develop throughout the series. For instance, we have Sergio, who is analytical and particular; however, he also struggles with a tiny bit of shyness and social anxiety. We then see him slowly learn to navigate relationships as the story progresses.
I particularly enjoy how the characters are named after cities, given that I enjoy traveling. For instance, there's Berlin, who is constantly portrayed as a neutral or gray character. Because of this, he constantly makes decisions or actions that we, as viewers, struggle with. Tokyo continues to have difficulty with her self-destructiveness through the series, and we are kept wondering whether she will grow out of it. On the upside, we watch cynical and closed-off Raquel open her heart and trust again.
But the most notable character is the Professor, whose insecurities and need for love go on trigger the development of the other characters. We also see how he reconciles himself with these feelings as he set the rules for the heist.
The social commentary
One of the show's central themes is that the robbers are portrayed as the modern version of the Italian anti-fascist movement. We see this idea become more prominent in parts three onward. It may take a while to identify this underlying message, but viewers eventually witness how they are fighting for something greater than just money. Hence, there is the eventual inclusion of an army.
The robbers also became popular with the public, somewhat similar to how the magicians in Now You See Me were lauded by the masses. The show reveals that large crowds gather in public dressed as the robbers, and at a certain point, the robbers also rained down a hundred million euros on them. Thus, the Professor emphasizes the fact that the mask they wear during their heists has become a symbol of resistance.
In fact, their heists as an act against the government have triggered other movements around the world. All of a sudden, there are marches for women's rights and demonstrations against corruption around the world. All of these were being credited to our group of eight robbers.
This all accurately captures the outcries and frustrations that many people have towards their respective governments. More importantly, it reflects the struggles against capitalism that many people in Europe carry, particularly after the financial crash of 2008. This is especially true for the people in Spain, which is apt because this is a Spanish show, after all.
The irresistable charm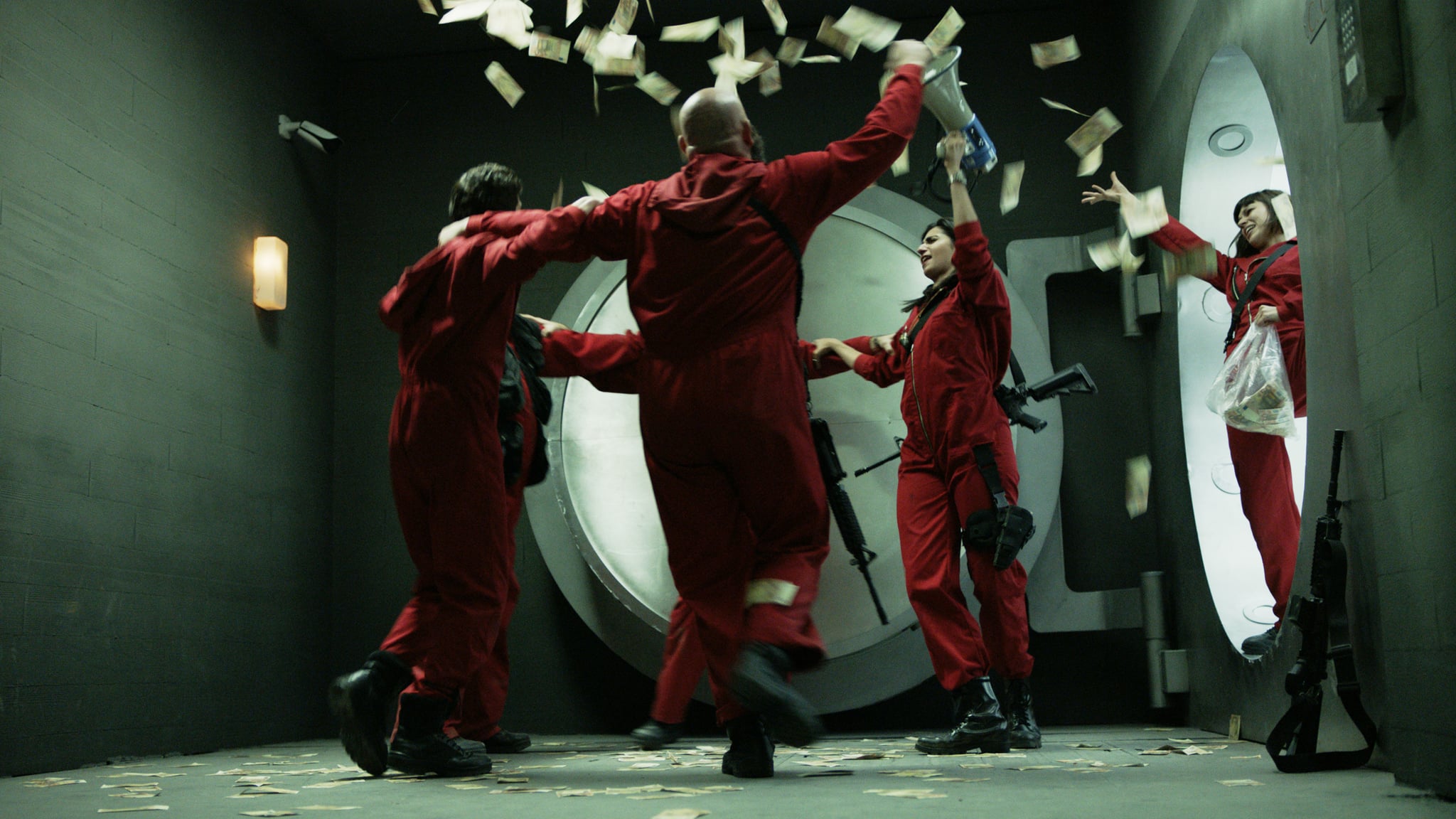 Stories that revolve around heists can be challenging to deliver — especially for long-running shows like this one. Hence, we do encounter plot holes, slow motions, and rather unnecessary graphic scenes. In fact, the cinematography can leave particular viewers wanting. The edits are not all that clean, and not all actors are skilled in their craft.
However, even with all of these factors, there is a charm that this show thrives on. It may not be brilliant in terms of technicality, but it is emotional and mindful of its message. It may take some time for the viewer to untangle, but once we get to the end, we can see exactly what they're fighting for.
Is stealing against the law? Without a doubt. But what happens when those who are supposed to uphold the law steal from the people? This show explores those nuances and anchors itself on the gritty reality of social classes and disparity. For that, it resonates among many.
Final thoughts
There is a lot of hype surrounding Money Heist, and rightfully so. There is a lot to untangle and explore when it comes to its narratives. However, I do think that it is best to go into the show without expectations. In fact, many of us who are choosy when it comes to voice-overs and cinematography may have plenty to say when it comes to those aspects of the show.
Nonetheless, it handles its set-up quite well. It starts out fun and seemingly mindless, just enough to hook viewers in. And then, all of a sudden, it turns into a grim commentary on the realities of life, and by then, we can't pull away. Because of that, I will be awaiting its last part, which is coming out on December 3, 2021.
---
Do you agree with my review on Money Heist? What about you? What are your thoughts about it?
Let us know in the comments section below!
Share this post with your friends and ask them about their review on Money Heist too!
Want more?
Subscribe and follow us on our socials, and we'll be sure to update you on the new releases in the anime and manga world!
[convertkit form=tel:2657266]