Hi, Alysers! Do you enjoy watching the blooper reels of movies? Then you're in luck because, in this post, I will share seven funny moments that happened behind the scenes in movies!
Personally, I find it sad that most movies have already removed the bloopers from their credits. I always looked forward to watching these funny moments, as they give viewers a glimpse of the things that happened behind the scenes. They reveal the dynamics of the cast and reflect how fun it could be on set, regardless of whether it's a drama, a romance, or a comedy.
Laughter is the best medicine, right? Prepare to feel good with these funny behind-the-scenes moments!
7. Guardians of the Galaxy 2
After saving Xandar from Ronan's wrath, the Guardians are now recognized as heroes. Now the team must help their leader Star Lord uncover the truth behind his true heritage. Along the way, old foes turn to allies and betrayal is blooming. And the Guardians find that they are up against a devastating new menace who is out to rule the galaxy.
[Source: IMDB]
The funny moments that hapened behind the scenes:
Look, Chris Pratt is quite well known in the Marvel universe fo this bloopers. However, it turns out that he's not the only one who tends to mess up his lines. The entire cast and crew apparently know how to have a little fun too!
In this blooper reel, you get to see a bunch of the cast dancing around. There's one scene in particular wherein Star Lord and his father are in harnesses. They can't control they're trajectory, so they keep messing it up.
So that you can better understand what I'm talking about, just check this clip for all the behind the scenes laughs:
6. Spiderman 2
When a failed nuclear fusion experiment results in an explosion that kills his wife, Dr. Otto Octavius is transformed into Dr. Octopus, a cyborg with deadly metal tentacles. Doc Ock blames Spider-Man for the accident and seeks revenge. Meanwhile, Spidey's alter ego, Peter Parker, faces fading powers and self-doubt. Complicating matters are his best friend's hatred for Spider-Man and his true love's sudden engagement to another man.
[Source: Rotten Tomatoes]
The funny moments that hapened behind the scenes:
Doc Ock is one of the most menacing and powerful foes that Spiderman has ever had to face. He is someone who is known to hold a grudge, as he seeks to avenge the death of his wife.
Now, in the movie, Doc Ock launches a big bank heist. There's this scene where the money from the heist rains around him — in coins. I can only imagine how much these coins hurt when they fell on the actor.
Then again, maybe we don't have to imagine. Just check out the behind-the-scene moments of that clip here, from 3:07 onwards:
Doc Ock in the movie? Scary. Doc Ock in real life? Absolutely hilarious!
5. Harry Potter and the Prisoner of Azkaban
Harry Potter's third year at Hogwarts starts off badly when he learns deranged killer Sirius Black has escaped from Azkaban prison and is bent on murdering the teenage wizard. While Hermione's cat torments Ron's sickly rat, causing a rift among the trio, a swarm of nasty Dementors is sent to protect the school from Black. A mysterious new teacher helps Harry learn to defend himself, but what is his secret tie to Sirius Black?
[Source: Rotten Tomatoes]
The funny moments that hapened behind the scenes:
In Harry Potter and the Prisoner of Azkaban, there's this really famous scenes wherein Hermione takes a punch at Draco. But did you know that the punch was actually supposed to be a slap?
What happened was that during rehearsals, Tom Felton told Emma Watson to practice slapping him — so she did. However, she ended up slapping him so hard that his cheek ended up turning bright red. Understandably, Tom was embarrassed. In a bid to make sure it doesn't happen again, they then changed the slap to a punch.
Man, what I'd give to be a fly on the wall during that time, because that sounds hilarious! There's no video, but you can read Tom Felton talking all about it in this interview.
There is, however, one funny behind-the-scenes moment from this movie that you can watch! Just check out this video of the cast playing a prank on Daniel Radcliffe:
4. Indiana Jones and the Last Crusade
An art collector appeals to Jones to embark on a search for the Holy Grail. He learns that another archaeologist has disappeared while searching for the precious goblet, and the missing man is his own father, Dr. Henry Jones. The artifact is much harder to find than they expected, and its powers are too much for those impure in heart.
[Source: Rotten Tomatoes]
The funny moments that hapened behind the scenes:
When the concept of working from home became normalized across the globe, people found freedom in attending meetings and going to work without their pants. How can they do this? Well, the camera in online meetings only shoot the top half of the body.
Apparently, Harrison Ford and Sean Connery had a similar idea when they shot Indiania Jones and the Last Crusader in 1989! They were shooting the film in Zeppelin, and everyone was in fur coats because it was supposed to be set in winter. But, it was very hot inside, and these two men can't take the heat and sweat!
Their solution? Well, they just shot the scene pantless, of course! We never get to see this play out because again, they only shot the top half of the body. That's how the actors got away with it. But it sure is funny to think about!
3. Scream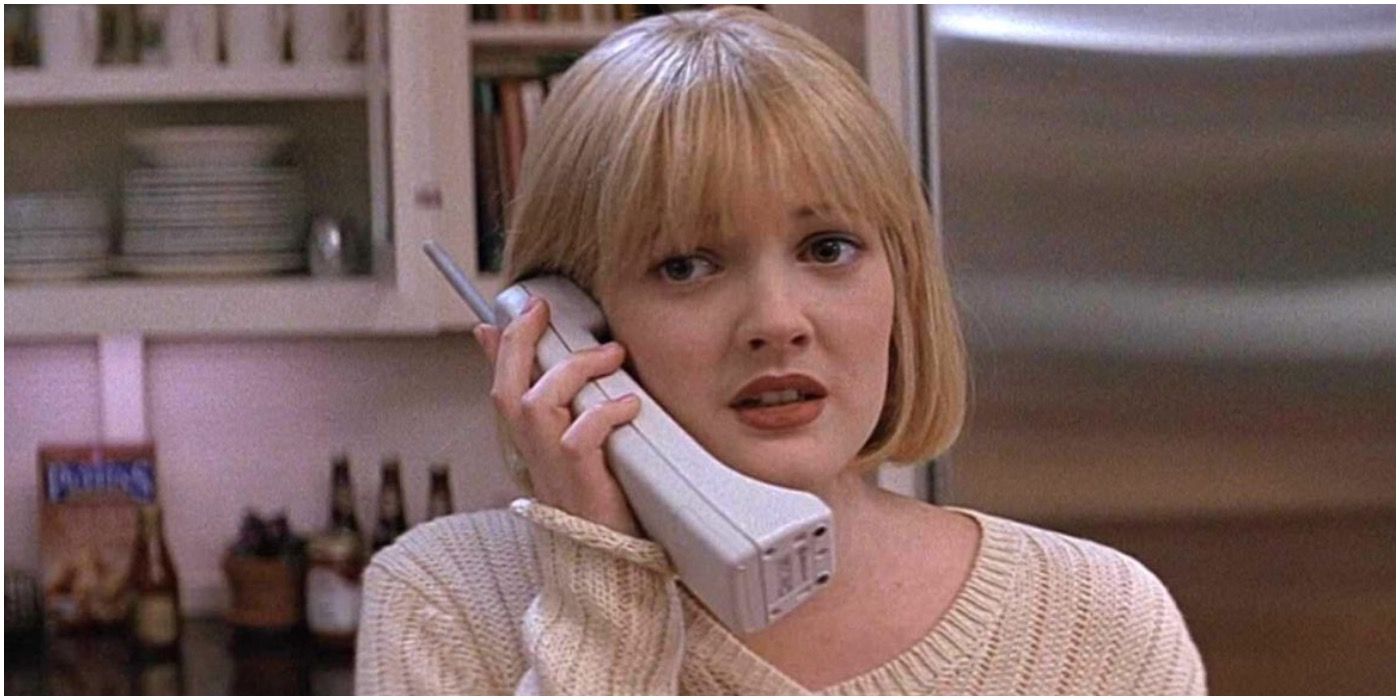 The sleepy little town of Woodsboro just woke up screaming. There's a killer in their midst who's seen a few too many scary movies. Suddenly nobody is safe, as the psychopath stalks victims, taunts them with trivia questions, then rips them to bloody shreds. It could be anybody…
[Source: Rotten Tomatoes]
The funny moments that hapened behind the scenes:
More often than not, when people speak of behind-the-scenes moments from horror movies, they would talk about the creepy events that happened to the cast and crew. Now, while Scream is very much a horror and thriller movie, it definitely differentiates from others in that regard.
In fact, the very first scene of the movie was already marked by laughter. It's the scene where Drew Barrymore is supposed to make a 911 call. What happened was that the propsmaster forgot to unplug the phone before filming, so Drew actually ended up calling 911 in real life – repeatedly! She would pick up the phone, dial, scream, then hang up. And so, in the middle of one take, the police actually ended up calling back to figure out why she kept doing that!
2. Predator 2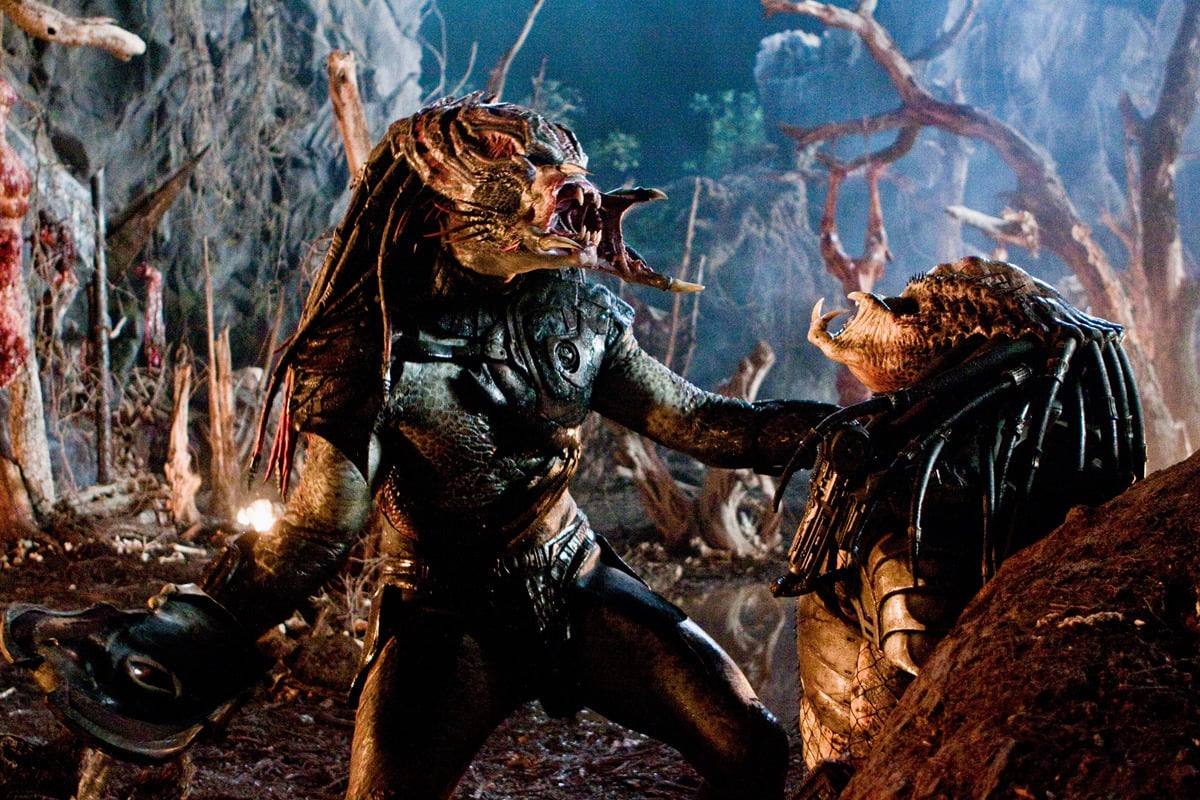 Lt. Harrigan is a cop fighting the good war against drugs. But recently, the major drug lords have been killed off in a very brutal fashion. His superiors tell him to stay out of it, but Harrigan knows that something is wrong. His instincts are right when he discovers that the person behind the murders is none other than the Predator, the human-hunting alien who likes to make trophies out of his victims' skulls. But how can Harrigan stop the Predator when it can turn invisible and kill him without him knowing it?
[Source: IMDB]
The funny moments that hapened behind the scenes:
Predator 2 is a tough-guy action film with a good mix of violent alines and drug lords. With a premise like that, we can expect a bunch of fights and serious scenes. But, the cast sure knew how to boogy and have fun behind the scenes.
Just check out this funny music video that the cast made. Who would have thought we would ever see a bunch of predators dancing to Michael Jackson? It didn't make the final cut (obviously), but it's sure to make you laugh!
1. Lord of the Rings
The future of civilization rests in the fate of the One Ring, which has been lost for centuries. Powerful forces are unrelenting in their search for it. But fate has placed it in the hands of a young Hobbit named Frodo Baggins, who inherits the Ring and steps into legend. A daunting task lies ahead for Frodo when he becomes the Ringbearer – to destroy the One Ring in the fires of Mount Doom where it was forged.
[Source: Rotten Tomatoes]
The funny moments that hapened behind the scenes:
On the set of one of this classic movie occurred one of the most classic pranks I have ever heard of. Brace yourself, because this is a good one.
Dominic Monaghan, who played the character of Merry, was famous for playing pranks on set. Eventually, the crew decided to set up a payback. What happened was they gave him a script with the supposed scene of the day. There, the Hobbits were said to fall out of a huge tree, and all their clothes caught on the branches. By the time they got down, they would have no covering left.
He shot the scene with Billy Boyd, and they had to cling to each other through the night while naked because their bodies needed warmth. The crew finished shooting the entire thing before they revealed that hey, it's actually a prank and there was no such scene in the movie!
The fact that the entire crew actually dedicated that amount of time, energy, and resources into this prank will never not be funny to me.
If you want to hear more, you can watch this video of Dominic and Billy recounting the incident:
---
Do you agree with my ranking of these 7 funny moments that happened behind the scenes?
What about you? Do you know any funny behind the scenes moments that happened in movies?
Let us know in the comments section below!
Share this list with your friends and bond over laughter!
Want more?
Subscribe and follow us on our socials and we'll be sure to update you on the new releases in the anime and manga world!
[convertkit form=tel:2657266]